By definition, a naturalist is compelled to share what he or she discovers about nature.  We thrive on direct contact with nature, but that is not enough.  A naturalist is a teacher, an interpreter, "one who feels as well as sees, . . . one who can translate the complex language of nature into the vocabulary of the common man, who can reach out to us from the heart of the natural world and lead us in (David Cavagnaro in his Foreword to Inland Island: The Sutter Buttes). 
A naturalist lives by his/her senses.  By rights, this should make us both sensible and sensuous.  In any case, as we practice our craft, we develop keenness of sight, hearing, smell, and touch.  We literally are in touch with the land.  Then from this reservoir of sensation and experience, we seek ways to communicate what we know and what we feel.
For me, words can be magic.  Well-crafted, they can stimulate and promote in others what I call "informed imagination."  See my first blog entry ("I am a Naturalist") for thoughts on being a naturalist; most of my blog entries will be designed to interpret, to teach, to celebrate, and, once in awhile, to inspire.
Photographs can be documentary (even valuable scientifically), or they can, if well-composed and exposed, become art.  The camera is a wonderful tool for capturing ephemeral moments in nature, and combined with written or spoken words, photographs can be powerful teaching elements.
Much of my current focus for interpretation is the wildlife and landscapes of the Prescott, Arizona area.  In October 2011, I gave the keynote address for the 2011 Regional Urban Wildlife Symposium in Prescott.  An audience member, Joe Phillips, videotaped the presentation and put it on You Tube, so here it is in its entirety if you would like to watch and listen: The Call of the Wild: Are We Listening?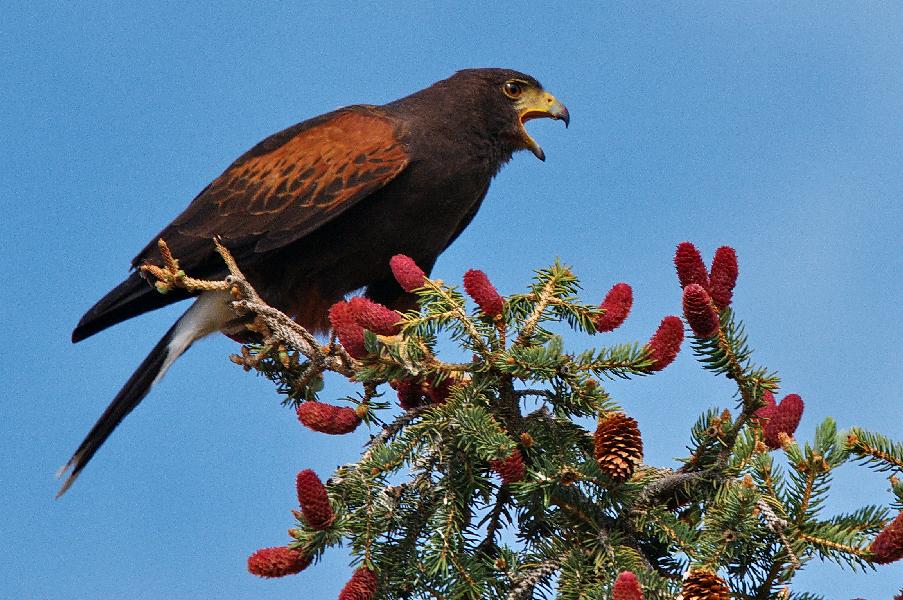 Over the years, I have had hundreds of photographs published in magazines, books, calendars, websites, and standing exhibits.  I have taught many photo workshops, led international travel in which photography was an important component, and given presentations to audiences of many sizes.
Web galleries of selected images may be viewed here.  Please contact me to purchase prints or publishing rights.  Note that I will add to galleries occasionally, so do return to see what's new.
Drawings and paintings can also be desirable forms of communication for the naturalist.
I have been in many gallery shows, won some awards, and have paintings in collections around the world.  I also love using black-and-white media for illustrating books, such as the following:
Inland Island: The Sutter Buttes (author Walt Anderson)
Co-existing with Urban Wildlife: A Guide to the Central Arizona Uplands (author Robert Hoffa)
The Elk in the Attic (author Christopher Hoy)
I do have prints of one painting (Pheasant and Fenceline) and several ink drawings; please inquire if interested.  I also accept commissions if you are very patient, and I have a few original paintings left.